I was presented with the opportunity to be the guest speaker at a graduation ceremony in the Bronx for The Osborne Association on Friday, March 11, 2016. The title of my message was: "You Matter." (Watch video below). It was an honor to meet with the staff and be able to speak into the lives of their graduates from the Justice Community Program, The Fatherhood Initiative and the Career Center.
When I was invited, back in December 2015, I had never heard of the organization. However, as I started to research them, it became apparent that the Osborne Association is making a tremendous impact in NY state. Here is their Mission Statement:
 "The Osborne Association offers opportunities for individuals who have been in conflict with the law to transform their lives through innovative, effective, and replicable programs that serve the community by reducing crime and its human and economic costs. We offer opportunities for reform and rehabilitation through public education, advocacy, and alternatives to incarceration that respect the dignity of people and honor their capacity to change."
I wholeheartedly agree that every person has the capacity to grow and change and it is not always appropriate to define an individual by the worst thing they have done.
I encourage you to visit their website and learn more about what they do to make a difference in our communities. Given that our country's prison system has been shown (in general) to not be centers for rehabilitation (but rather in some extreme cases a breeding ground for increased criminality), it is paramount we learn what other opportunities and alternatives are available should we ever find ourselves having to interact with the judicial system on behalf of those we love and care about.
And here's a portion of my message, "You Matter" to the graduates.  In this video, I share two major keys we all need if we are going to be successful and significant in life. In addition to the message, each graduate received a copy of my book, MOVE! Your Destiny is Waiting on You.
Just click to watch the video. I hope it helps you to keep pressing towards the dreams which live deep within you.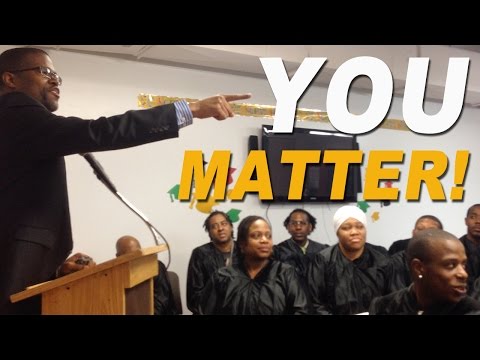 -Allen Paul Weaver III-